What is Cash Credit Loan?
A cash credit loan is a short-term loan typically used to cover business expenses. The loan is extended based on the borrower's creditworthiness, and the funds are generally available as soon as the loan is approved. Cash credit loans can be used for various purposes, including working capital, inventory financing, and equipment purchases.
Features of Cash Credit Loan
When you take a cash credit loan, here are some features you can expect:
Rate of Interest- The Interest rate is only charged on the loan amount the borrower uses; it is not charged on the approved amount. And, the interest you pay on cash credit is tax-deductible.
Limit of Credit- Depending on the borrower's creditworthiness or ability to repay, the lender sets the loan limit.
A minimal commitment fee- The applicant will be charged the minimum charge regardless of whether the amount to be underwritten is used or not.
Collateral- To obtain a cash credit loan, the borrower must offer security or collateral.
Term of Credit- The term for repaying cash credit loans is up to 12 months.
Withdrawal terms- The applicant can withdraw the required amount that the bank has authorised to cover their daily needs. The bank issues a cheque book in the company's name, from which the latter may withdraw the necessary sum.
Eligibility for Cash Credit Loans
To be eligible for cash credit loan, here are the basic requirements an applicant needs to meet:
The minimum age requirement for a cash credit loan depends on the lender. A lot of lenders use 25 years as the standard minimum age.
A business must be at least 3 years old to qualify for a loan. However, lenders do grant loans to newly founded companies that have completed 1 year in operations.
When submitting a loan application, businesses must prove that they have filed their taxes for at least one year.
To qualify for a cash credit loan, the borrower must offer collateral like real estate properties, inventory, work-in-progress goods, raw materials, etc.
Working capital loans are available to proprietorship businesses, partnership businesses, publicly traded companies, limited liability companies, registered trusts and co-operative societies.
In addition to the above mentioned criteria, some lenders might have different standards. It is important to contact your lender and learn about any specific requirements they have before applying for a loan.
Documents required for Cash Credit Loans
When taking out a loan, you need to have certain information ready. Your bank will ask for a list of documents such as:
Income proof: bank statements from the last 6 months
Certificate of Business Incorporation
Commercial address proof
Ownership data: Company legal documents
Payment history for loans (if applicable)
Collateral proof
Completed application form and passport-sized photos
Business PAN card
Documents required for KYC include the applicant's passport, driver's licence, voter ID card, PAN card, Aadhar card, and utility bills (water and electricity bills).
Things to keep in mind when applying for Cash Credit Loans
When requesting a cash credit loan, the applicant should take the following factors into account:
The kind of collateral accepted will vary from lender to lender; hence, it's essential to connect with the lender and confirm the details once.
The worth of the collateral affects how much interest is charged on these loans. The borrower can bargain for a lower interest rate on working capital loans if the collateral has a high value.
For working capital requirements, the majority of market lenders offer running credit. Businesses are free to take money out of their accounts whenever needed.
The cash credit loan is based on running credit, so receiving additional benefits requires a strong loan repayment history. Lenders review it yearly and modify the terms and conditions of the account based on the loan repayment history.
Businesses can use the money for any working capital needs. However, it cannot be used for other things like long-term investments or personal needs.
How to apply for loans with Cash Credit?
You need to do the following things to apply for a cash credit loan:
Visit the bank's website and look for a cash credit loan application based on your company's needs.
Complete the form and send the required documents mentioned on the bank's website.
Before approving a cash credit limit, the bank or lender will review the application and determine the company's current assets and liabilities. When a business has good financial standing, the approved cash credit limit is higher.
Cash Credit offered by leading Banks/NBFCs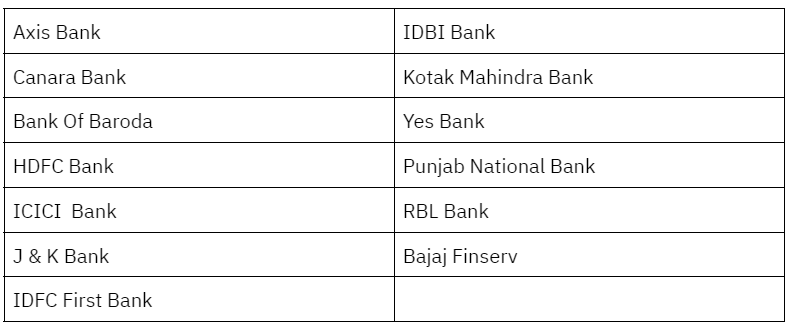 Advantages and disadvantages of Cash Credit
There are both advantages and disadvantages to credit. It is essential to weigh your options carefully before deciding whether a credit card loan will be the best option for your business.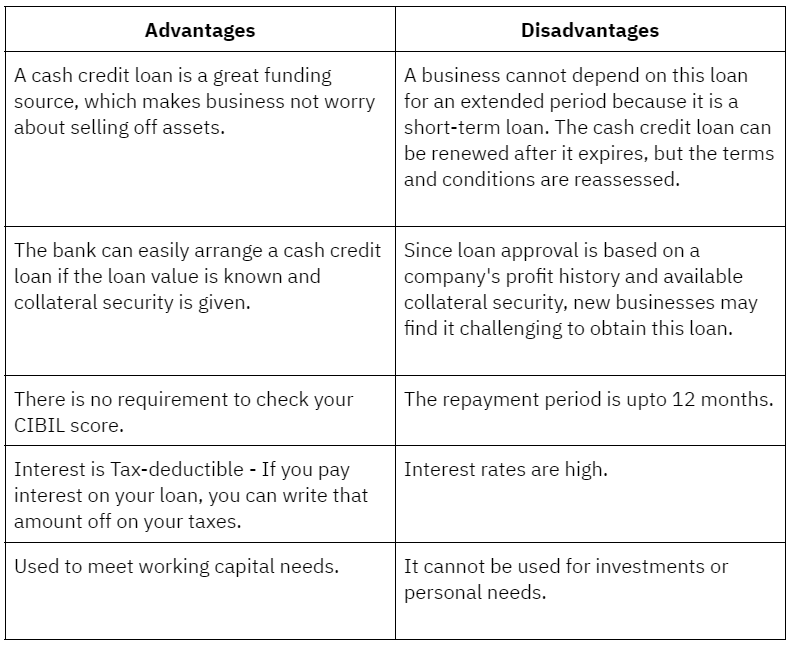 Difference between Cash Credit and Overdraft
Two main types of short-term business financing are cash credit and overdraft. Both options provide businesses with the funds to cover expenses and keep operations running smoothly. However, companies should be aware of some critical differences between the two financing options.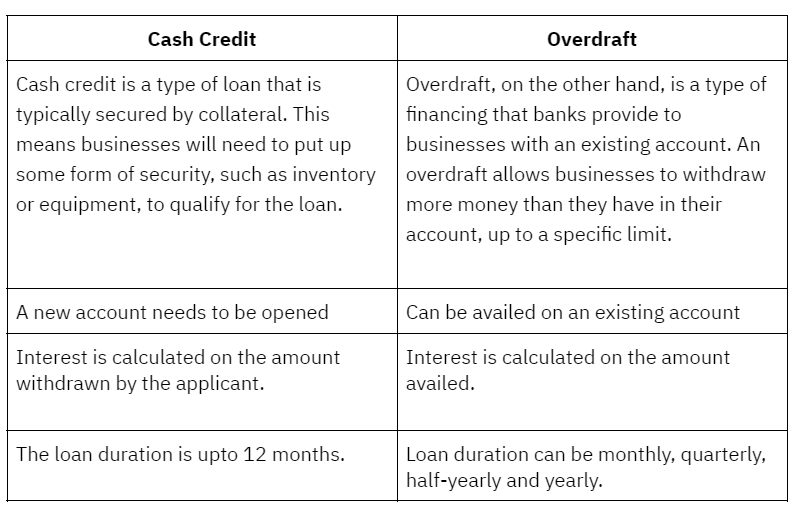 FAQ about Cash Credit Loan
Can liquid securities be used as collateral to obtain Cash Credit Loans?
Liquid securities are acceptable as collateral by some market lenders. However, some lenders only accept inventory or real estate as collateral. Get in touch with the lender to know more about the collateral.
How long does it typically take for lenders to disburse a loan?
Some lenders offer loans in as little as 24 hours, while others process loan applications and disburse the funds in a few days.
Is it possible to get working capital loans without putting up security?
Working capital loans are typically only provided after putting up collateral. If you prefer unsecured loans, you can take a personal loan and use the money for your company's needs. On the other hand, unsecured loans have high-interest rates based on your annual income, credit score, loan amount, and repayment terms.
My company is having financial problems. Will Cash Credit loans be beneficial to me?
Cash credit loans are the best option for people who struggle to cover a business's operating costs. Additionally, seasonal businesses that only experience exponential growth in sales during a few months of the year can benefit from it.
How much will Cash Credit Loans cost me in fees and charges?
Lenders assess a processing fee on the loan amount, and you might be subject to penalties if you fail to make a payment on time. In addition, lenders may have additional costs, such as commitment, stamp duty, stock audit, conversion, check bounce, etc.
How much money can be borrowed through the Cash Credit facility?
Financial institutions' loans depend on the company's number of stocks and receivables.
Where can I use money availed by the Cash Credit limit?
You can use the funds to cover your working capital needs and business growth.
Who is eligible for this Cash Credit loan?
A cash credit loan can be applied for by any individual, manufacturer, trader, retailer, distributor, company, partnership, sole proprietorship, LLP, trust, or society.
How do business loans and Cash Credits differ from one another?
A financial institution provides a term loan with a set interest rate and predefined repayment terms. On the other hand, cash credit is a credit limit offered by a bank to a business as a short-term working capital loan.
How do banks determine the loan limit?
The applicant's profile, relationship with the bank, the enterprise's financial stability, ability to repay the loan, and credit worthiness are considered when determining the cash credit limit.
Read more