The smart way to invoice!
myBillBook offers you templates with the perfect invoice format in Excel that are ready-to-use for your business. An Excel invoice template is a free stencil to be filled as per your company's details, and prepare the most professional invoices in no time.
Utilise the customisable invoice format in Excel templates to maintain quick, professional, and effective communication with clients!
Downloadable free Excel invoice templates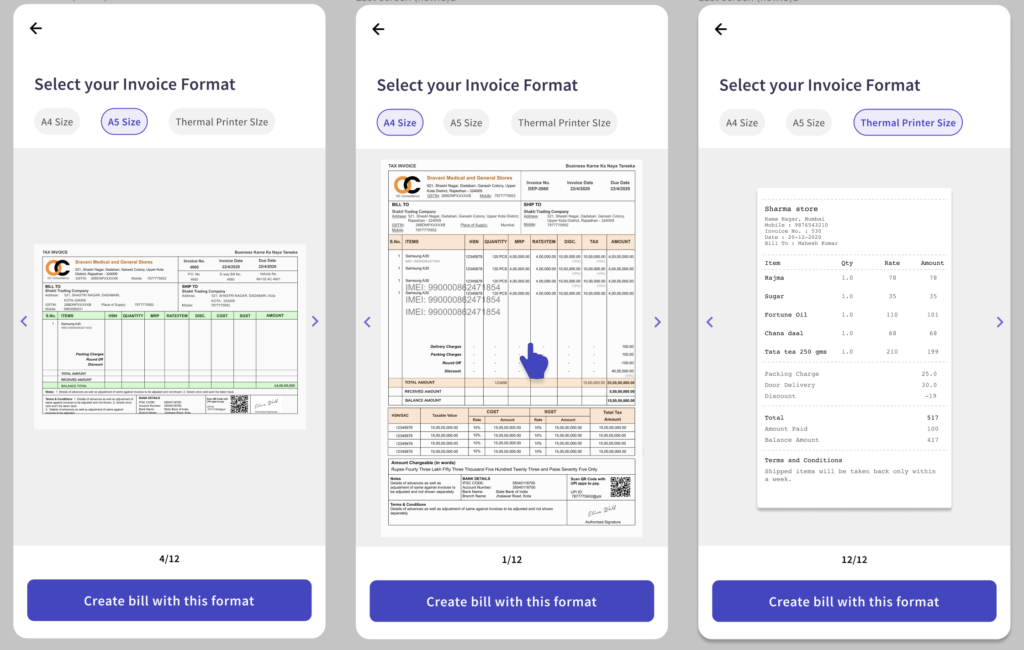 Why myBillBook is your go-to store for invoice templates?
Simple and easy invoice templates for all your clients and projects!
Are you looking for the perfect invoice templates for your business? Here's why myBillBook is the one-stop-shop for invoicing:
A wide range of templates
It is extremely easy to draft professional invoices using myBillBook's invoice format in Excel. myBillBook offers you a wide range of invoice formats that are easily customisable according to the project requirements.
Highly time-saving
Invoicing is an integral part of a successful business. As much as you'd like timely payments, making invoices isn't extensively time-consuming. myBillBook's invoice templates are easy to fill out, customise, and save. You can easily make dozens of invoices and ensure timely payments.
Brand your invoicing
Invoices are one of the ways you communicate with clients. With myBillBook's invoice Excel templates, you can choose the format that suits your needs and develop a unique voice for your business. Your customers are bound to trust a business that sends professional invoices with all the details.
Excel invoice template: Highlights
Using invoice format in Excel templates allows you to ensure seamless transactions with clients. Here are all the elements that Excel templates offer to give your business an edge over its competitors:
1. Absolutely free invoice templates perfect to be shared with clients.
2. Automatic calculation of subtotal and grand total amounts.
3. Easily customisable to suit your requirements.
4. Professional-looking formats with all essential invoice elements.
5. Add your logo and address to brand the invoicing process.
6. Easily printable invoices to send to your customers.
Special purpose templates
Whether you are into consulting, sales, construction, or even freelance work, invoices form an integral part of adhering to the bottom line. All businesses benefit from maintaining uniformity in their invoices.
If you are a business or freelancer looking for customised invoices tailored to what you do, there is no need to look any further!
myBillBook offers ready-to-use customised special-purpose invoice templates that are perfect for niche businesses and freelancers.
Graphic design invoice templates
If you work as a freelance graphic designer, these are meant for you!

Contractor invoice templates
Customisable templates that include specific sections such as materials and labour to make your job easier.

Freelance invoice templates
Templates that help you to bill for completed projects and for your time spent.

Construction templates
Personalised templates that contain specific sections like- site location, material, labour cost, etc.

Photography templates
Highly relevant invoice templates meant for photography projects and jobs.
Which invoice template format should I use?
An invoice template represents your business and serves as your identity to the clients. It is a document that stays with your clients as a testament to your professionalism.
The primary consideration while choosing an invoice template is the industry your business functions in. The perfect invoice for your business will include the sections and fields specific to your work or services. Also, the design should look appealing to your customers.
You have multiple choices when looking for invoice templates.
Here's all you need to know about invoice templates to make an informed decision:
Google Docs or Microsoft Word
With Microsoft Word, you can design all kinds of documents, reports, and invoices. The software offers easy management and a simplified layout. There are options available to change colours and fonts, add images, tables, and much more. It is advisable to start with an existing template as calculating amounts, taxes, and costs can be a tricky business to do by yourself.
Creating a template that caters to all your requirements from scratch in Word can prove to be quite a challenge.
However, with a ready-to-use template by myBillBook, you don't have to worry about adding your fields. You can simply fill in the details and send the invoice to your clients.
Excel or Google Sheets
An invoice format in Excel makes it easy to calculate totals and add taxes. With the automatic formulae in place, a lot of your work happens automatically. You can even set up tables and include formulas with minimal effort.
One thing where Excel invoice templates fall short is visuals. It isn't easy to make an Excel invoice template with images that look professional. Besides, you can find it difficult to augment column widths without affecting the entire document – an Excel spreadsheet is a large table. Also, you do not have as many styling options as offered in Word.
To help you avoid all this hassle, myBillBook offers fully customisable and professional Excel invoice templates.
Invoice generator tool
Using an invoice generator software or tool is one of the best options to accomplish all your invoicing tasks. With a well-designed tool, you can get both convenience and style and save a lot of time.
This is where myBillBook comes in!
With myBillBook's invoice generator tool, you can easily create professional invoice templates in no time. The generated templates work well with printers as well as mobile devices. You can even save your clients and product details for future use.
Invoices for small businesses
As a small business owner, you are always busy attempting to form long-term relationships. This involves a lot of invoicing and trying to please the clients. Plus, creating invoices is critical to keep the cash flow going.
But what are the invoices that work well for small businesses? Which is the invoice that you should use to get paid and look professional?
Here are the most common and reliable types of invoices that can work for your small business:
1. Pro forma invoice
You can use these invoices to communicate how much a specific project will cost. These invoices are not demands for payment but an early estimate of the cost.
2. Past-due invoice
This type of invoice is sent as a reminder to the clients of the amount still outstanding.
3. Interim or instalment invoice
When working on a long project, these invoices are used to break down the payment into instalments. These help you maintain the cash flow.
4. Recurring invoice
These invoices are used with clients that have an ongoing relationship.
5. Project invoice or Final invoice
Small businesses use this invoice at the end of a project, indicating that the payment is due.
6. Credit memo
A credit memo acts as an acknowledgement that you owe a client some money. This invoice is used when you owe an amount to a customer- in cases such as when they return some products, or you send the wrong item.
We hope this gives you enough context on invoicing and invoice templates!