The SME sector is often recognised as the backbone of the Indian economy, having made substantial socio-economic contributions to the country. It generates jobs and aids in the development of rural and impoverished areas. 
What is SME?
SME stands for Small and Medium-Sized Enterprises.
It is evident from the SME full form that they have limited employees and spend minimally on fixed assets such as manufacturing plants/production plants and equipment.
Why Do We Need SMEs?
SMEs are crucial because:
They add to the country's industrial economy's development and progress.
They catalyse residents across various economic sectors to improve competitiveness and innovation.
Classification of SMEs
In India, you can classify SMEs according to their investment in the different sectors.
| | | | |
| --- | --- | --- | --- |
| S.No | Classification | Threshold for Investment | Threshold for Turnover |
| 1 | Small Business | Rs 1 cr to Rs 10 cr | Rs 5 cr to Rs 50 cr |
| 2 | Medium-Sized Enterprise | Rs 10 cr to Rs 20 cr | Rs 50 cr to Rs 100 cr |
You would find these industries in the manufacturing and service sectors since they are a significant component of the economy's secondary, tertiary, and quaternary sectors.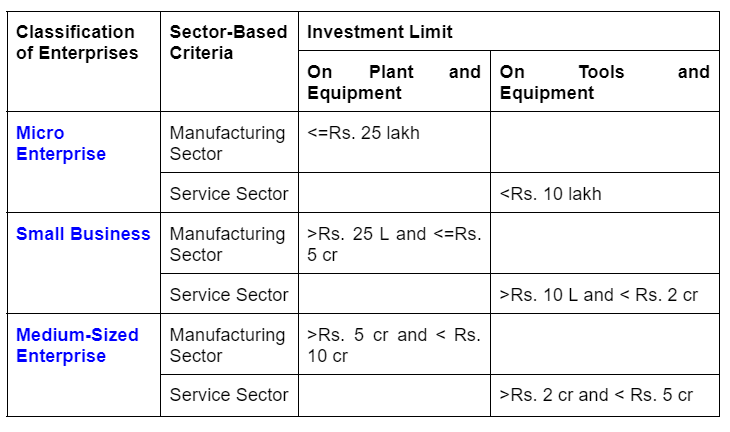 Significance of SMEs in India
A Rise in Employment Opportunities
The primary benefit of fostering small-scale industries and small enterprises is that they generate jobs with little government intervention.
According to this FICCI research, the SME sector has created around 11.10 crore jobs across the country (National Sample Survey 2015-16). Thereby it also reduces poverty.
Ease in the Application of Loans
Despite a severe lack of infrastructure and a history of discouraging government regulations, SMEs have had phenomenal growth.
The industry is known as India's "engine of growth." And as a result, obtaining an SME loan or finance has become easier over the years.
Significant Influence on GDP
SMEs account for 8% of GDP. Numerous small business lending programs are assisting in the development of this category.
Around 6000 products are manufactured by 31.7 per cent of SMEs, while the remaining 68.2 per cent provide various services.
Promising Future of Industrial Expansion
This sector can spread industrial development throughout the country if given the proper assistance. For example, 40% of India's total exports come from small and medium-sized firms.
This sector accounts for 45 per cent of total industrial output.
Other Benefits Include:
Reducing unemployment
Eliminating poverty
Blurring economic gaps
Encouraging regional development
Increasing exports
Reducing pollution
Increasing production
Increasing people's purchasing power
Improving people's quality of life
In addition, SMEs, meaning small and medium-sized businesses have no constraints in establishing themselves in most rural areas, raising people's living standards.
Why Do SMEs Require Accounting Software?
Accounting softwares like myBillBook can assist you in managing a business in the following ways:
Provide Accurate Information
Suppose the data entered into the accounting software is accurate. In that case, all extrapolated data will also be accurate, allowing the omission of manual computations and data entry in favour of faster, more accurate computation.
Export Data
Accounting software can generate spreadsheets, PDF files, CSV files, and various other file types seamlessly and effortlessly. A single click on a drop-down menu will often enable you to export, save, and print your data in an easily understandable format.
Protects Data
The accounting software solution will provide unmatched security, safeguarding the confidential financial information of the businesses whose data it manages.
You could restrict access to individuals within the accounting department or particular allowed devices. For example, it can provide departments with limited access to the system to input data, but all other information will remain segregated.
Generate Reports
You can utilise your accounting software's reports for invoicing, auditing spending, tax computations, employee payroll, and benefits, among other things. In addition, small businesses can use this financial data to prepare for lean times and predict cyclical demand-related hills and troughs.
Encourage Job Satisfaction
You may utilise the software to ensure accuracy, hand off your digital records to your accountant, and eliminate stress from the work.
Enhanced Growth
Accounting software ensures that your internal departments are not overloaded when your business grows significantly. Reducing data entry and outsourcing heavy computation to software can free up staff time to focus on growth.
FAQs Related to SME
Are SMEs and MSMEs the same?
Yes, in India, SMEs are referred to as MSMEs.
Can a sole proprietorship register as an MSME?
Yes.
Additionally, the registration process and fees are comparable to those for other registrations, such as partnership businesses, limited liability companies, etc.
How many small and medium-sized enterprises (SMEs) exist in India?
India's total number of SMEs is approximately 63.05 million micro industries, 0.33 million small businesses, and about 5,000 medium firms.
What's the distinction between MSME and SME loans?
What are the motivations for SME investment?
One of the primary motivators for SME investment in the country is the easy availability of loans tailored precisely to the demands and requirements of this sector.